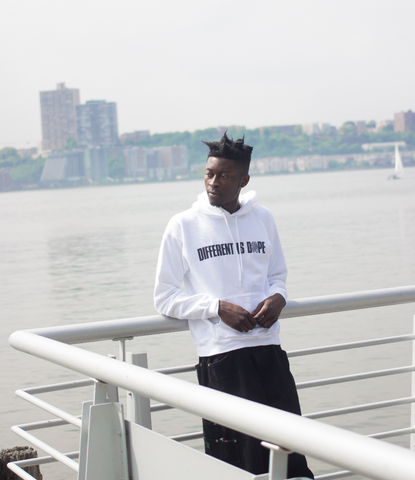 "I'm currently pursuing my music career 24/7. I picked up a side gig serving at Joe's Pub (a cool dinner/performance art theatre) that'll take some of my time. If I'm not working on music, I am modeling or something acting-related, and that is my passion. To be able to live the dream even though I haven't reached my heights yet. 
I actually enjoy taking the day off. I've been watching movies lately, studying performances, and hanging with my inner circle. I can't forget to mention I love eating food! Really enjoying the company of myself and keeping my energy reserved. Creating, creating, creating. Being healthy, working on staying disciplined in the gym. 
Having to start from the bottom has been a roadblock I've faced and am still facing. It's hard to go from living with your parents, to a new city, then college, then no college, no home, no job.. but a dream. Sacrificing to pursue something that you've always wanted. It hasn't stopped me- just a hurdle that you have to jump over to get to the finish line.
My future is so unknown, every day i'm surprised by how the day went - you know? I see myself as universal- crossing the music, film and modeling industry. Performing all over, inspiring the youth, finally having a "name" for myself and reaping the finances from my work. Whatever comes with the lifestyle, if it's awards, fans, the opportunities… I see myself being able to attain the success that came from all the hard work and energy my team and I created. 
My art makes me different. My sound, the image, the content, really honing in to the distinctiveness within my voice and my hair! Being able to perform, record, song-write, direct, act, model, dance... all the entertainment stuff, it really sets me apart from your average internet overnight sensation. I'm longevity. Seriously though. And I say that because having the work ethic really sets you apart from the rest."